Announcements

The first of two annual summer parties will be Saturday, July 14th from 6-10 p.m. (weather permitting). We've got a great playlist along with food and drink for members and their guests (free!).  The club will be providing some food and drink, and for those interested in bringing food/drinks to share, please bring the following according to the first letter of your last name:
A-H - 2 2-liter bottles of soft drinks
I-P - dessert
Q-Z - appetizer or main dish
The pool will not be closing for set-up.  We'll need three volunteers to help set up and decorate (shift is 5:15-6:15 p.m.), two volunteers to help with the food/drink (shift is 6:30-7:30 p.m.) and four volunteers to help with cleanup and packing away the decorations (shift is 10:00-10:30 p.m.).  Please respond via
Signup Genius
 help out. 
NO GLASS CONTAINERS PLEASE! 

We hope to see you there!
Thank you.
Linda Stemnock
Carefree Club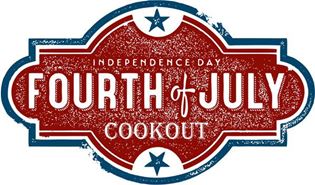 Our Annual 4th of July Cookout will start at noon and go until we run out of food (weather permitting).  Make plans to stop by the pool for hot dogs, hamburgers, corn on the cob, baked beans, chips and dessert along with ice tea and lemonade.  Free to members and guests.  We'll need three volunteers to grill (shift is 11:15 a.m. to 1:00 p.m.) and two volunteers to help set up, set out food, and clean up (shift is 11:30 a.m. to 1:30 p.m.).  Please respond via Signup Genius <
www.SignUpGenius.com/go/30E0A44A5A87-carefree4
 > if you are interested.
The parade will be 10:30 - 11:00 a.m. on July 4th (weather permitting). Decorate your bikes, wagons, kids, pets and yourself and meet in front of the clubhouse between 10:15 and 10:30 a.m.  Judging will begin at 10:35 a.m.  We'll then take a lap around the property and then award prizes.  We'll need two volunteers to pick and award the prize-winning entries and lead the lap around the property. Need 2 volunteers to judge entries. Free to members and guests.  We had some great entries last year and hope to get even more this time.
With the temperatures now going into the high 80s and 90s, working out can sometimes present a challenge.  We've got a solution for that:  water aerobics begins Monday, June 4, at the Carefree pool.  These classes are free for members and guests.  No registration is required – just show up for the classes you would like to attend.  No experience is necessary, and we provide the workout gear.  Most of the classes will be in shallow water, and some have found wearing water shoes helpful to provide traction on the pool bottom.
We'd been asked to offer a few more evening classes in addition to Tuesday and Thursday, so for 2018 we'll have the following schedule for June and July:
Monday/Wednesday/Friday – 10-11 a.m.
Monday-Friday – 6-7 p.m.
Some Saturday morning classes will be offered, too.  This is a great way to meet new friends and neighbors, and we typically have pitch-ins every few weeks.  We have five instructors this year, and are looking forward to seeing you.  The calendar by the pool check-in window will list the instructors for each of the classes.  We hope to see you there.
Linda Stemnock
Pool Chairman
NEXT CAREFREE CLUB MEETING
The next Carefree Club meeting is on Monday, August 13th, 2018 from 7:00 pm - 8:30 pm
POOL STATUS
Pool is closed.
Daily Hours M - F 11:00AM - 8:00PM / Sat. 11:00AM - 9:00PM / Sun. 11:00AM - 8:00PM
BABY POOL STATUS
Pool is closed.
Daily Hours M - F 11:00AM - 8:00PM / Sat. 11:00AM - 9:00PM / Sun. 11:00AM - 8:00PM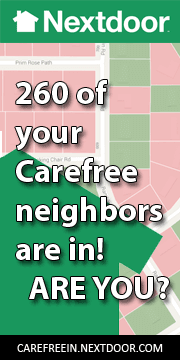 The Carefree neighborhood has launched a Nextdoor community site. Nextdoor is a private social network for you, your neighbors and your community. It's the easiest way for you and your neighbors to talk online and make all of your lives better in the real world. And it's free.
Thousands of neighborhoods are already using Nextdoor to build happier, safer places to call home.
People are using Nextdoor to:
Quickly get the word out about a break-in

Organize a Neighborhood Watch Group

Track down a trustworthy babysitter

Find out who does the best paint job in town

Ask for help keeping an eye out for a lost dog

Find a new home for an outgrown bike

Finally call that nice man down the street by his first name
Nextdoor's mission is to use the power of technology to build stronger and safer neighborhoods. 
To sign up click here