Announcements
Carefree South - Entrance Sign!
Thank you to all the Carefree neighbors who donated funds and helped organize the purchase and installation of the NEW Carefree South sign at Leisure & Fairview. In the Spring, we'll have a neighborhood call-out to remove the current entrance wall and landscape the grounds around the sign. Enjoy!
We regret to inform you that the bonfire, usually held in late October, will not take place this year.  Jess Carrasquillo and Linda Stemnock, who took responsibility for the event the past two years, are busier than usual and are not able to give the 20-some hours that it takes to put on this event.  The new board was seated this past week and there currently is not an activities chairperson.  We hope to find someone to be the chairperson to plan and coordinate such events as the Easter egg hunt, 4th of July cookout, annual summer party, etc.
Thank you.
Carefree Club Board of Directors
Hello Carefree neighbors
The ballot for the board of director's election has been mailed. Please review, complete the form, and either drop it off at the pool concession window through September 2, 2019, or mail in the enclosed envelope by September 3. The election will be held on September 9, 2019, at 7:00 p.m. at the Carefree Clubhouse. Your ballot/proxy must be received by 7:00 p.m. on September 9, 2019, in order to be counted.
Thank you.
Carefree Club Board of Directors
NEXT CAREFREE CLUB MEETING
The next Carefree Club meeting is on Monday, March 9th, 2020 at 7:00 pm
POOL STATUS
Pool is closed for the season. See you on May 23, 2020.
BABY POOL STATUS
Pool is closed for the season. See you on May 23, 2020.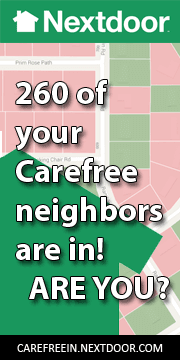 The Carefree neighborhood has launched a Nextdoor community site. Nextdoor is a private social network for you, your neighbors and your community. It's the easiest way for you and your neighbors to talk online and make all of your lives better in the real world. And it's free.
Thousands of neighborhoods are already using Nextdoor to build happier, safer places to call home.
People are using Nextdoor to:
Quickly get the word out about a break-in

Organize a Neighborhood Watch Group

Track down a trustworthy babysitter

Find out who does the best paint job in town

Ask for help keeping an eye out for a lost dog

Find a new home for an outgrown bike

Finally call that nice man down the street by his first name
Nextdoor's mission is to use the power of technology to build stronger and safer neighborhoods. 
To sign up click here