Announcements
2018 2nd Quarter Newsletter
Catch the latest Carefree Club news!
NEW for 2018 - Pay Annual Membership Dues Online!
New for 2018!

Carefree Club is now offering the ability to pay your annual club membership dues online. There will be a convenience fee added to the total. You will see the convenience fee BEFORE completing the transaction. All members will receive the annual dues letter in the mail with the option to pay by check. You can learn more about both payment options in the following link.
2018 - 1st Quarter Newsletter
NEXT CAREFREE CLUB MEETING
The next Carefree Club meeting is on Monday, June 11th, 2018 from 7:00 pm - 8:30 pm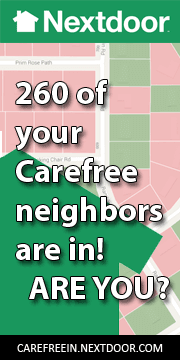 The Carefree neighborhood has launched a Nextdoor community site. Nextdoor is a private social network for you, your neighbors and your community. It's the easiest way for you and your neighbors to talk online and make all of your lives better in the real world. And it's free.
Thousands of neighborhoods are already using Nextdoor to build happier, safer places to call home.
People are using Nextdoor to:
Quickly get the word out about a break-in

Organize a Neighborhood Watch Group

Track down a trustworthy babysitter

Find out who does the best paint job in town

Ask for help keeping an eye out for a lost dog

Find a new home for an outgrown bike

Finally call that nice man down the street by his first name
Nextdoor's mission is to use the power of technology to build stronger and safer neighborhoods. 
To sign up click here