Announcements
Carefree Annual Summer Pool Party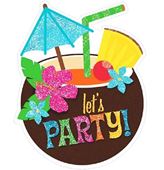 Carefree's annual summer party is Saturday, July 20th from 6-10 p.m. Join us for an luau-themed evening of music, hanging out with friends and neighbors, and swimming late! Carefree will be providing some appetizers, side dishes and soft drinks along with all the paper goods. If you would like to bring something to share, please bring the following according to the first letter of your last name: A-I 2 2-liter bottles of soft drinks; J-P appetizer; Q-Z dessert. For those bringing an appetizer or desert please bring enough for 2-14 people. Members and guests are welcome to BYOB, but remember no glass is allowed anywhere on the pool decks. Cost is $5/family. Please note that the pool will be closed from 4-6 p.m. for set up. Thanks and we hope to see you there! In case of inclement weather, we'll try to reschedule within a few weeks.
We are also requesting the volunteers to help make the event a success.
Set up from 4-5:30 3 volunteers
Clean up from 10-10:30 3 volunteers
Use the following link to sign-up!
Look forward to seeing everyone!
Carefree Club Activities

By-Laws Ballot - PLEASE READ
Notice of Special Meeting for Carefree Club, Inc. And Voting Ballot/Proxy
Please mail by July 18th for the July 25th meeting.
2019 3rd Quarter Newsletter

Enjoy the 2019 3rd quarter newsletter!

NEXT CAREFREE CLUB MEETING
The next Carefree Club meeting is on Monday, August 12th, 2019 from 7:00 pm - 8:30 pm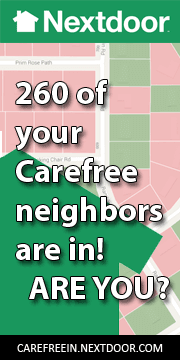 The Carefree neighborhood has launched a Nextdoor community site. Nextdoor is a private social network for you, your neighbors and your community. It's the easiest way for you and your neighbors to talk online and make all of your lives better in the real world. And it's free.
Thousands of neighborhoods are already using Nextdoor to build happier, safer places to call home.
People are using Nextdoor to:
Quickly get the word out about a break-in

Organize a Neighborhood Watch Group

Track down a trustworthy babysitter

Find out who does the best paint job in town

Ask for help keeping an eye out for a lost dog

Find a new home for an outgrown bike

Finally call that nice man down the street by his first name
Nextdoor's mission is to use the power of technology to build stronger and safer neighborhoods. 
To sign up click here