Announcements
With the temperatures now going into the high 80s and 90s, working out can sometimes present a challenge.  We've got a solution for that:  water aerobics begins Monday, June 4, at the Carefree pool.  These classes are free for members and guests.  No registration is required – just show up for the classes you would like to attend.  No experience is necessary, and we provide the workout gear.  Most of the classes will be in shallow water, and some have found wearing water shoes helpful to provide traction on the pool bottom.
We'd been asked to offer a few more evening classes in addition to Tuesday and Thursday, so for 2018 we'll have the following schedule for June and July:
Monday/Wednesday/Friday – 10-11 a.m.
Monday-Friday – 6-7 p.m.
Some Saturday morning classes will be offered, too.  This is a great way to meet new friends and neighbors, and we typically have pitch-ins every few weeks.  We have five instructors this year, and are looking forward to seeing you.  The calendar by the pool check-in window will list the instructors for each of the classes.  We hope to see you there.
Linda Stemnock
Pool Chairman
2018 2nd Quarter Newsletter
Catch the latest Carefree Club news!
NEW for 2018 - Pay Annual Membership Dues Online!
New for 2018!

Carefree Club is now offering the ability to pay your annual club membership dues online. There will be a convenience fee added to the total. You will see the convenience fee BEFORE completing the transaction. All members will receive the annual dues letter in the mail with the option to pay by check. You can learn more about both payment options in the following link.
NEXT CAREFREE CLUB MEETING
The next Carefree Club meeting is on Monday, July 9th, 2018 from 7:00 pm - 8:30 pm
POOL STATUS
Pool is open!
Daily Hours M - F 11:00AM - 8:00PM / Sat. 11:00AM - 9:00PM / Sun. 11:00AM - 8:00PM
BABY POOL STATUS
Baby Pool is open!
Daily Hours M - F 11:00AM - 8:00PM / Sat. 11:00AM - 9:00PM / Sun. 11:00AM - 8:00PM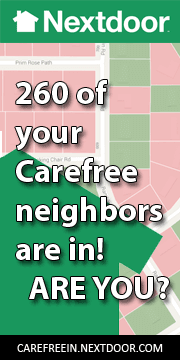 The Carefree neighborhood has launched a Nextdoor community site. Nextdoor is a private social network for you, your neighbors and your community. It's the easiest way for you and your neighbors to talk online and make all of your lives better in the real world. And it's free.
Thousands of neighborhoods are already using Nextdoor to build happier, safer places to call home.
People are using Nextdoor to:
Quickly get the word out about a break-in

Organize a Neighborhood Watch Group

Track down a trustworthy babysitter

Find out who does the best paint job in town

Ask for help keeping an eye out for a lost dog

Find a new home for an outgrown bike

Finally call that nice man down the street by his first name
Nextdoor's mission is to use the power of technology to build stronger and safer neighborhoods. 
To sign up click here