Announcements
Carefree Annual Dues – Payment Extension
Due to the Carefree Club website service interruption, we have extended the payment deadline for the 2019 annual dues. The payment deadline has been extended to May 14 without penalty. Lot owners can either use our online credit card payment system or mail check or money order (download dues form) to the following address by May 14. More information about the 2019 annual dues.
Make checks out to: Carefree Club Inc.
Mail to: PO Box 163 Greenwood IN 461412
Best,
Carefree Club Inc.
Carefree Website - Service Interuption
On April 23 the Carefree Club Inc. website's hosting service had a security breach on its Windows servers. This issue caused the company to shut down all servers thus making the Carefree Club website inaccessible. While the company has been working to restore service they have communicated no concrete date to restore the website. During this time we have also been unable to access our files and communicate to the Carefree community using our official email system. For these reasons, we have preemptively moved to a new hosting service to get the Carefree website back online. Because we are using an older backup of the website, please be patient as we bring all the site's information up to date.
Thank you for your patience.
Carefree Club Inc.
NEXT CAREFREE CLUB MEETING
The next Carefree Club meeting is on Monday, June 10th, 2019 from 7:00 pm - 8:30 pm
BABY POOL STATUS
The filtration pump has broken, and we are working as quickly as possible to get a new pump installed. In the meantime, the pool will unfortunately be closed until a new pump is installed.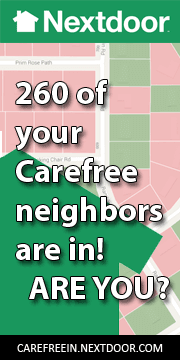 The Carefree neighborhood has launched a Nextdoor community site. Nextdoor is a private social network for you, your neighbors and your community. It's the easiest way for you and your neighbors to talk online and make all of your lives better in the real world. And it's free.
Thousands of neighborhoods are already using Nextdoor to build happier, safer places to call home.
People are using Nextdoor to:
Quickly get the word out about a break-in

Organize a Neighborhood Watch Group

Track down a trustworthy babysitter

Find out who does the best paint job in town

Ask for help keeping an eye out for a lost dog

Find a new home for an outgrown bike

Finally call that nice man down the street by his first name
Nextdoor's mission is to use the power of technology to build stronger and safer neighborhoods. 
To sign up click here