Announcements
COVID 19 - Pool and Clubhouse Status
Carefree Pool
Our country is in the midst of a pandemic (COVID-19). According to Governor Holcomb's Back on Track Indiana, community pools can open on May 24, 2020. The federal Centers for Disease Control and Prevention (CDC) has stated there is no evidence of COVID-19 being spread through pool water. However, there is definite concern the virus could be spread in pool bathhouses, restrooms, on pool ladders, decks, and lounge chairs. CDC also recommends social distancing in the water, on the pool deck, and wearing cloth face coverings in public where other social distancing measures are difficult to maintain. Our priority is to keep members and pool staff safe while at our pools.
Many pools are either delaying their opening or remaining closed for the summer. The board of directors has decided to look at early July as a time when the pools can possibly be opened with the understanding that further delays may be necessary. This would allow for more time to see if and what the health experts advise as to how to provide a pool environment that is safe for both our lifeguards and patrons. We will be monitoring the COVID-19 situation as it relates to our pools and will keep you informed.

Carefree Clubhouse
The Carefree clubhouse will be open for rentals beginning May 30.  While the Covid-19 pandemic is still with us, the following changes will be in effect:
The member renting the clubhouse will acknowledge in the contract that they are responsible for having social distancing at their event.
All attendees should follow recommendations to protect themselves and others from the Covid-19 virus:  https://www.cdc.gov/coronavirus/2019-ncov/prevent-getting-sick/prevention.html
It is recommended that the renter wipe down all sinks, countertops, faucets, door handles, light switches, toilets, tables and chairs before and after their event.  Sanitizing wipes will be provided by the club.
Signage will be posted to remind attendees to keep six feet apart and/or wear cloth face masks during the rental.
Those in attendance are encouraged to use the patio to allow for more space between attendees.
This is a very challenging time. Your understanding is appreciated.
Carefree Club Board of Directors
Carefree Clubhouse & Grounds - COVID 19
Carefree Club Members:
Please be advised that in order to comply with state and federal guidelines regarding the coronavirus/COVID-19, we have closed the clubhouse to gatherings/rentals until further notice.  Refunds will be given to those whose rentals were affected.  We urge you to be safe and informed of this rapidly-changing situation.  Information can be found at the Centers for Diseases Control and Prevention at https://www.cdc.gov/ and the Indiana State Department of Health at https://www.in.gov/isdh/.
UPDATE - The Carefree Club grounds are open, so families will be able to go outside and take a walk, but please continue to practice social distancing by remaining 6 feet away from other people. The playground is closed because it poses a high risk of increasing spreading the virus.
Carefree Club Board of Directors
Annual Membership Dues - 2020
Carefree Club is now offering the ability to pay your annual club membership dues online. There will be a convenience fee added to the total. You will see the convenience fee BEFORE completing the transaction. All members will receive the annual dues letter in the mail with the option to pay by check. You can learn more about both payment options in the following link.
The Annual Maintenance Assessment is due by May 1, 2020 in the amount of $300.
Annual Club Membership Dues
NEXT CAREFREE CLUB MEETING
The next Carefree Club meeting is on Monday, June 8th, 2020 from 7:00 pm - 8:30 pm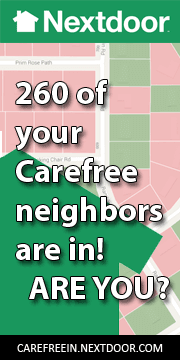 The Carefree neighborhood has launched a Nextdoor community site. Nextdoor is a private social network for you, your neighbors and your community. It's the easiest way for you and your neighbors to talk online and make all of your lives better in the real world. And it's free.
Thousands of neighborhoods are already using Nextdoor to build happier, safer places to call home.
People are using Nextdoor to:
Quickly get the word out about a break-in

Organize a Neighborhood Watch Group

Track down a trustworthy babysitter

Find out who does the best paint job in town

Ask for help keeping an eye out for a lost dog

Find a new home for an outgrown bike

Finally call that nice man down the street by his first name
Nextdoor's mission is to use the power of technology to build stronger and safer neighborhoods. 
To sign up click here