Announcements
Hello Carefree neighbors
The ballot for the board of director's election has been mailed. Please review, complete the form, and either drop it off at the pool concession window through September 2, 2019, or mail in the enclosed envelope by September 3. The election will be held on September 9, 2019, at 7:00 p.m. at the Carefree Clubhouse. Your ballot/proxy must be received by 7:00 p.m. on September 9, 2019, in order to be counted.
Thank you.
Carefree Club Board of Directors
Carefree Club - Ballot Result
The ballots were counted last night for the proposed amendment to the by-laws. A quorum of 265 were needed; a total of 337 were received. Six of those ballots were incomplete, leaving 331 ballots for the result of:
Votes for quorum only = 12
Votes against the proposed amendment = 83
Votes in favor of the proposed amendment = 236
A majority plus one was required to either pass/not pass the vote, so the proposed amendment was approved by the membership. Thanks to everyone who voted.
Linda Stemnock
Carefree Club, Inc.
Carefree Annual Summer Pool Party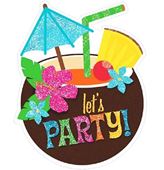 Carefree's annual summer party is Saturday, July 20th from 6-10 p.m. Join us for an luau-themed evening of music, hanging out with friends and neighbors, and swimming late! Carefree will be providing some appetizers, side dishes and soft drinks along with all the paper goods. If you would like to bring something to share, please bring the following according to the first letter of your last name: A-I 2 2-liter bottles of soft drinks; J-P appetizer; Q-Z dessert. For those bringing an appetizer or desert please bring enough for 2-14 people. Members and guests are welcome to BYOB, but remember no glass is allowed anywhere on the pool decks. Cost is $5/family. Please note that the pool will be closed from 4-6 p.m. for set up. Thanks and we hope to see you there! In case of inclement weather, we'll try to reschedule within a few weeks.
We are also requesting the volunteers to help make the event a success.
Set up from 4-5:30 3 volunteers
Clean up from 10-10:30 3 volunteers
Use the following link to sign-up!
Look forward to seeing everyone!
Carefree Club Activities

NEXT CAREFREE CLUB MEETING
The next Carefree Club meeting is on Monday, November 11th, 2019 from 7:00 pm - 8:30 pm
POOL STATUS
Pool is closed for the season. See you on May 23, 2020.
BABY POOL STATUS
Pool is closed for the season. See you on May 23, 2020.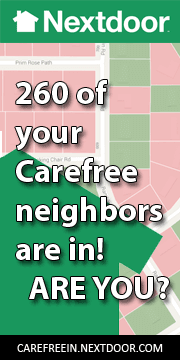 The Carefree neighborhood has launched a Nextdoor community site. Nextdoor is a private social network for you, your neighbors and your community. It's the easiest way for you and your neighbors to talk online and make all of your lives better in the real world. And it's free.
Thousands of neighborhoods are already using Nextdoor to build happier, safer places to call home.
People are using Nextdoor to:
Quickly get the word out about a break-in

Organize a Neighborhood Watch Group

Track down a trustworthy babysitter

Find out who does the best paint job in town

Ask for help keeping an eye out for a lost dog

Find a new home for an outgrown bike

Finally call that nice man down the street by his first name
Nextdoor's mission is to use the power of technology to build stronger and safer neighborhoods. 
To sign up click here